Instances wherein QuickBooks users mistakenly delete their invoices are common. As a consequence of instances like these, you too may have removed an important invoice. There can be other reasons as well due to which you may have deleted an invoice in QuickBooks. Now, you may be looking for its information for some important business-related tasks. Recovering that invoice may be your concern right now. We strive to provide you with excellent methods for getting back your deleted invoices in the accounting software. In case you're missing out on complete instructions to know how to undelete an invoice in QuickBooks and QuickBooks Online, invest a moment to explore this reading. Along with fully-instructed methods to recover these invoices, you can also check one way of viewing the deleted invoices in QB.
Queries like "How can the users of QuickBooks restore deleted invoices" are often pondered upon. In case you have deleted your invoices in the accounting software, you may not be able to exactly undo your action. Fortunately, you can access the deleted invoices and recreate them using the details of the old ones. The step-by-step methods for doing so have been discussed in the upcoming sections.
How to Undelete an Invoice in QuickBooks?
A less-time consuming method to recover a deleted invoice in QuickBooks has been demonstrated here. This method will guide you in using the Gear sign to view the Audit Log. This will reveal the Filter option. You can pick the option of All Dates as well as All Users. In Events, you will come across Transactions. Henceforth, you can view your deleted invoice and recover the same.
Run the "QB" software.
Press the icon of "Gear".
Choose "Audit Log".
Next to "Filter", tap the arrow representing the dropdown option.
Click on the "All Dates" option.
Now, opt for "All Users".
Visit the tab titled "Events".
You will see a new screen displaying a message stating "Show Only these Events". Highlight the box next to "Transactions".
Hit a click on "Apply".
Now, browse through the list and pick your invoice.
Visit "View".
Click on "Time" for finding information with respect to the invoice.
Make a new invoice by selecting the "+" symbol.
Press "Invoice".
Input the required information.
Select "Save".
We hope that this method does its job and helps you in preparing an invoice having the details of the old one.
How can I Recover a Deleted Invoice in QuickBooks Online?
Restoring invoices is a facility that is available to the users of QBO as well. For learning how to undelete an invoice in QuickBooks Online, you can initially push the Gear symbol. Moving forward to the Audit Log, you can use the Filter option for choosing All Users. Then you can opt for All Dates. Using Events, you can access the option of Transactions. You'll be able to view the deleted invoice as well as its information.
Start "QuickBooks Online".
Locate the "Gear" symbol and click on it.
Tap on "Audit Log".
Access the dropdown located near "Filter".
Opt for "All Users"
Click on "All Dates".
Below the option of "Events", you will find "Show Only these Events". Press the radio button near it.
Tick the box given near "Transactions".
Push the "Apply" tab.
This is followed by choosing your invoice.
Opt for the "View" option.
Tap on "Time" for viewing additional details.
Now, your invoice has to be recreated. You can push the "+" sign.
Click on "Invoice".
You will be asked to fill in the necessary information. After filling it, choose the "Save" option.
How to Find Deleted Invoices in QuickBooks?
To find your deleted invoices in the software, you can select Tools. This option can be located by pressing the Gear sign. Via Filter in the Audit Log, you can view the deleted invoices.
When "QuickBooks" is running, push the "Gear" sign.
Now, visit "Tools".
Pick the option of "Audit Log".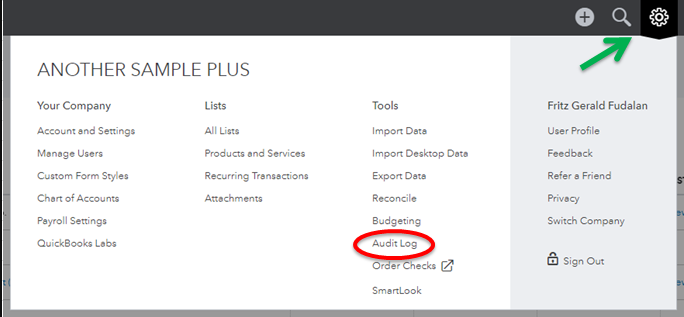 Navigate to "Filter" in the "Audit Log".
Click on "Users".
Then choose "All Users".
Using the "Date" field, input the time for a particular transaction.
Now, checkmark "Transactions".
In "Show", opt for "Deleted/Voided Transactions".
Select an account if you wish to.
Then hit "Apply".
The deleted invoice(s) will be visible. Press "View" to get more information.
Tap on "Show All" to view every invoice that was deleted.
Thing to Remember: When you press "View", you will be able to see the necessary information with respect to your deleted invoices. Here, you can also find out when the invoice was edited or deleted.
Words in Conclusion
Now on, if you accidentally or purposely remove an invoice in the QB software, you'll already have the knowledge to retrieve it. We made our finest attempts to guide you in learning how to undelete or restore a deleted invoice in QuickBooks as well as QuickBooks Online. We also hinted at how you can view all your invoices after deleting them. We believe our efforts for forming this post will be highly-acknowledged by you.
QuickBooks comes with numerous features and applications. You may or may not have the complete knowledge about them. As you stay connected with us, you'll get to know a lot about QuickBooks Errors. So, keep reading!
Frequently Asked Questions
In the above-displayed sections, we attempted to find the deleted invoices in QuickBooks and restore them.
Q. Can you recover a deleted invoice in QuickBooks Online if it has been accidentally removed?
Ans. There can be instances wherein you may not be willing to delete your invoice in QB. However, the invoice may accidentally get removed. In such instances, you may want to find out how to undelete or restore a deleted invoice in QuickBooks. For this purpose, you can use the gear-like sign. Then using the Audit Log, you can find the information of your deleted invoice and prepare a new one.
Q. How do you delete invoices in QuickBooks?
Ans. An invoice may no longer be required by you or it may be duplicate or having an incorrect amount. When hit by such reasons, you can prefer to delete that invoice in QB. To do so, you can find the "Invoice" option in "Sales". Then you can opt for that invoice which isn't needed. In "More", you can hit a click on "Delete". In some time, your invoice will get removed. At some point in time, you may require that invoice. You can choose to recover the deleted invoice in QuickBooks at that time.