Reasons like faulty and duplicate payments often demand that you delete invoices in QuickBooks. There can be other reasons too for deleting them. In case you too wish to delete a particular invoice, you can count on us. When it comes to executing this task, we're the pioneers at laying out highly-reliable methods. We'll tell you how to delete an invoice in QuickBooks, QuickBooks Online, QuickBooks Desktop, and more. You can browse numerous methods for this purpose along with all the important directions. In the final section of the post, you can also find related FAQs to learn more about deleting invoices in the accounting software.
We can assist you in removing invoices from QB using different ways. In addition to that, we will also show you the methods to delete incorrect invoice payments in the software. The detailed methods for these can be explored below.
How to Delete Invoices in QuickBooks?
Deleting invoices in Intuit QB is inclusive of a short procedure. To start the procedure, you can navigate to Sales and then pick the Invoices option. After deciding the invoice that you wish to do away with, you can press More. The option for deleting it will be given here.
In the software, choose "Sales" available on the left.
Click on "Invoices".
Pick the invoice which isn't required.
At the Invoice page's bottom, click on "More".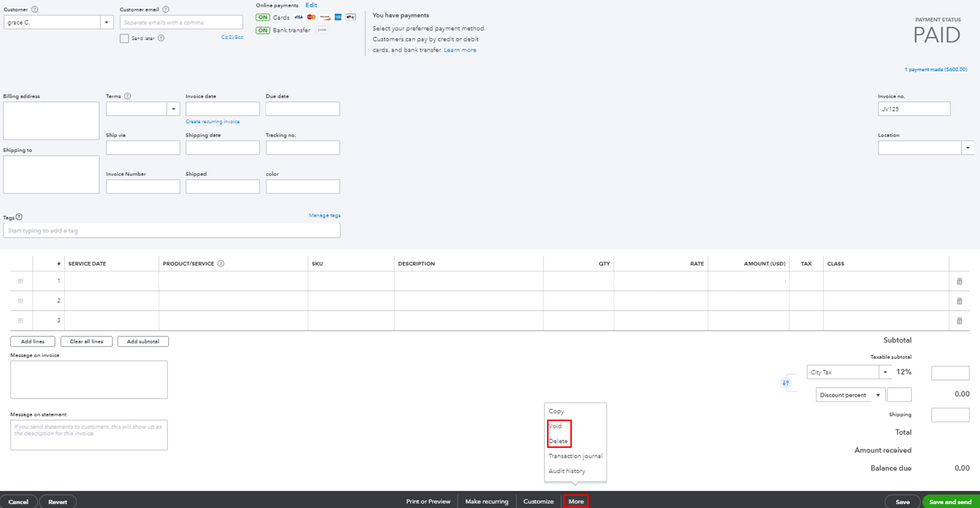 Now, push the "Delete" tab.
For confirming, tap on "Yes".
Now, the invoice will get quickly removed from the accounting software.
Can I Delete an Invoice in QuickBooks via Invoices List?
This section will introduce the method to explore how to delete an invoice in QuickBooks via the list of invoices. To locate this list, you can visit the Sales option. After locating it, you have to choose an invoice for removing and tap on Action. Then you can click on Delete to remove that invoice.
Using the left menu, opt for "Sales".
Choose "Invoices".
Now, locate the invoice for deleting it.
Visit "Action" using the dropdown.
Now, tap on "Delete".
Note: You can go to the "Audit Log" to view the deleted invoice.
How to Delete an Incorrect Invoice Payment in QuickBooks?
Questions like "In QuickBooks, how do I delete an invoice with an incorrect payment" are often asked by users. To settle this answer, we have prepared 2 methods for removing such an invoice. The initial method will use your Company Profile. Should you like to do it via the Chart of Accounts, you can move to the next method.
Option 1: Deleting Incorrect Invoice Payments in QuickBooks via Company Profile
Faulty or duplicate invoice payments can be made in certain situations. Using the Company Profile, you get one way of removing such invoices. You can press Open in the Company Profile option and then head to Banking. Now, you've to tap on Make Deposits and choose the invoice you'd like to remove. Using the Edit option, you can delete it.
When the accounting software is running, go to the "Company Profile".
Press "Open".
Rush to the menu named "Banking".
Click on "Make Deposits" via the dropdown.
Pick that line which is having a duplicate invoice and is not needed.
Now, enter the menu of "Edit".
Choose the "Delete Line".
Press "Save".
In case there are more invoices which are having duplicate or incorrect payments, you can use this method to delete them as well.
Option 2: Deleting Incorrect Invoice Payments in QuickBooks via Chart of Accounts
Here, we'll be introducing how to delete an invoice in QuickBooks with incorrect payments via COA. COA or the Chart of Accounts can be accessed by pressing the dropdown in the menu. Now, choose the Undeposited Fund option and access the account register. Once you can see the duplicate payment, hit Edit for removing it.
A menu has to be chosen for the list.
Then press the dropdown to opt for "COA" or "Chart of Accounts".
Go to the tab of "Undeposited Fund" and click twice on it for launching the account register.
Identify the duplicate payment and select it. This should be the payment which has to be removed.
Click on "Edit".
Then pick the "Delete Payment" option.
Methods for Deleting Invoices in Other Versions of QuickBooks
Now, it's time to learn how to delete an invoice in QuickBooks Online and QuickBooks Desktop. The methods listed below will also aid you in removing invoices in a batch. The step-by-step directions for each of these methods have been showcased below.
How Do I Delete an Invoice in QuickBooks Online?
This method will educate you about how to delete an invoice in QuickBooks Online. To fulfil this purpose, you can move to the option of Transactions shown on the left side of the panel. Via Sales, you can view a list carrying certain transactions. The transaction that isn't required has to be picked. Then you can tap on More to find the Delete button.
Launch the software.
On the navigational panel's left side, opt for "Transactions".
Click on "Sales".
Go through the list displaying the transactions.
From the list, pick the invoice that isn't required.
Press "More". You can find this button by scrolling down.
Now, tap on "Delete".
You will see a popup window. It will require you to confirm whether the invoice has to be removed. Provide your confirmation to continue.
How Do You Delete an Invoice in QuickBooks Desktop in a Batch?
We have received queries asking "How to delete invoices on Quickbooks in a batch". So, we decided to answer such queries in this section.
If you're a user of QuickBooks Desktops and wish to remove a batch of invoices, then you're in luck. As you open the software, you will find File. After entering its menu, you can enable the single-user mode. This will be followed by selecting the Accountant option. In this option, the option of Batch Delete will be present. You can select it to establish your purpose.
Run "QuickBooks Desktop".
Click on "File".
Opt for "Switch to Single-user Mode".
Note: In case you find the option "Switch to Multi-user Mode" in place of "Switch to Single-user Mode", do not select it.
Tap on "Accountant".
Now, choose "Batch Delete".
Go to the list of "Available Transactions".
Here, pick the transactions which need to be deleted.
Then click on "Review & Delete".
Now, pick the option of "Back up & Delete". In case no backup is required, you can pick the "Delete Only" option.
Then press "Yes" to provide your confirmation.
As soon as the confirmation is provided by you, the batch of invoices will get removed.
In Brief
This post covered methods for removing invoices in QuickBooks, QBO, QB Desktop, etc. We also guided you about how to delete an invoice in QuickBooks 2011, 2012, 2016, 2017, and other versions. For listing the instructions for these methods, we kept the language easy-to-understand. In case these methods worked well for removing the invoices in the software, do share them with others as well.
We are preparing additional blogs to help you do a lot more with QuickBooks invoices. Make sure that you come back to go through these blogs too.
Frequently Asked Questions
In addition to the above-listed methods, we have also prepared 4 FAQs. These will cover other related questions with respect to removing invoices in QB.
Q. Should I void or delete an invoice in QuickBooks?
Ans. In case you require that the QB software maintains a record of your transactions but input zero after cancelling the amount of the payment, you can void your invoice. If you would like to erase every bit of transaction, then deleting the invoice will be best. Thus, based on your requirements, you can choose to void or delete your invoice in the software.
Q. How to find a deleted invoice in QuickBooks?
Ans. After QuickBooks delete invoices, you may wish to view them at some point in time. To do so, you can move to "Reports" and choose "Accountant and Taxes". After that, you can select "Deleted Transactions Summary". Here, you can view the deleted invoices.
Q. Can I delete multiple invoices in QuickBooks?
Ans. At present, the accounting software may not support an option that lets you delete multiple invoices in one go on every version of QuickBooks. In certain versions of the software, you can remove a batch of invoices. Otherwise, you can view and remove the invoices one at a time.
Q. What happens when I delete an invoice in QuickBooks?
Ans. As you delete a QuickBooks invoice, it will be removed on a permanent basis from your company file. By doing so, your posted transaction will also get deleted. The report totals, as well as the balance of your customers, may get affected in doing so.